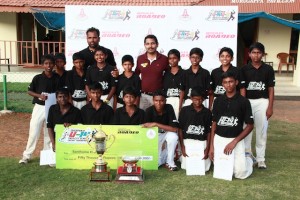 The under-14 years school cricket team of San Thome School lifted the prestigious trophy for the winners of the TN Cricket Association'S annual tourney for city schools. In the final held on January 3 at the Murugappa grounds in north Chennai, San Thome beat traditional rival, St. Bede's in a convincing manner.
St Bede's won the toss and put its rival into bat and the San Thome batsmen piled up runs. Vimal Kumar made 52 runs and captain Sai Sudarshan was unbeaten on 50.  The total of 204 for 3 wickets in the allotted 50 overs was a challenging one.
For the St. Bede's team, things did not work out too well further in this match. They lost wickets at regular intervals.
St Bede's was bowled out for just 132 in less than 37 overs. The star San Thome bowlers were spinners Ranjit Kumar ( 3 wickets) and Udayanidhi ( 3 wickets).
Ranjit who had also scored 19 runs and took crucial wickets was the 'man of the match'.
The team was felicitated by the school's management at the school Assembly and will enjoy a cash prize of Rs.50,000.
The team – Sai Sudarshan ( capt.), R Vimal Kumar, J. Napoleon Bonapatre, T Ranjit Kumar, A T Aadhishankkar, L. Aswin Kumar, Ajay Chetan ( wicket-keeper), S Ganesh Balaji, T. Udayanidhi, K P. Rajasekaran, Rakesh Kumar, S. Rohan, V. Bhuvaneshwar, S. C. Ashek Milton and R Rajiv.  Coach – Shanmugham.