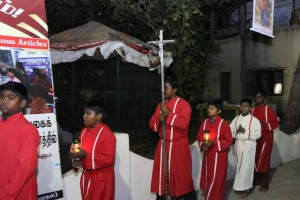 As the Lenten season enters its final stage, churches in the area are preparing for the Pascal Week that starts Sunday March 28, with the celebration of Palm Sunday – the day Jesus is said to have entered Jerusalem and events leading to his condemnation and death followed. On Palm Sunday, the faithful will take part in short processions while holding palms in their hand to symbolically recreate the Jesus episode.
At San Thome Cathedral, this procession will start after the first Mass to be held at St Raphael's School campus early morning and end at the cathedral campus.
Similar processions will be held at local churches, some inside the campuses some along the streets around the church.
Palm Sunday leads to Holy Week – Maundy Thursday, Good Friday and Holy Saturday.
Photo shows the Way of Cross religious practice at Our Lady of Light Church. Luz. This is s weekly prayer held during Lenten season.