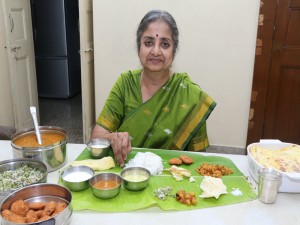 The sweet and sour Ugadi pachadi was the highlight of Ugadi celebrations by the Maharashtrians, Kannadigas and Telugu speaking communities of Mylapore. On Saturday (Mar 21), people got together at temples and homes to welcome the Telugu new year and to celebrate a season of prosperity and good health.
At Sita Laxminarayana's house (seen in the picture), a Kannadiga, the day started at 5 a.m. with an oil bath. After a special panchamritham abhisekham with milk, ghee, curd, honey and sugar, a naivedyam of ugadi pachadi, panagam, neer mor and kose malli (made with green gram dhal and coconut) is offered to the diety.
The lunch preparations then began. Specials like poli, appi payasam (made with rava puris), vada and mango rice are made and again offered to the diety before consumption. Sita says, "We always eat the ugadi pachadi first – this is a tradition that we have been following for a long time. We also make it a point to visit a temple in the evening to listen to the panchangam".
Sita has been a resident of Mylapore for more than four decades. For more than 20 years she puts out a pot of water (which she fills twice a day) on Ugadi day for the thirsty people who pass by her house and a little bowl of water for the animals and birds.
Why Ugadi? "For us this festival signifies the beginning of the summer season. It a little something I can do towards a social cause and what better day to start than on Ugadi", she says. She does this for about 4 months till it starts raining. She is a resident of C. I. T. Colony, Mylapore.
At Mahratta Education Fund, about 200 Maharashtrians got together to celebrate Gudi Padwa in the evening. After an Indra Dwaja Pooja, the panchangam was read by Sanskrit scholar Prof. R. Venkobha Rao followed by a discourse on "Manithanum Deivamaagalam" by Nagai Mukunthan, PRO, Karur Vysya Bank, Chennai. The celebrations ended with a sumptuous dinner – poori, chana, sambar rice, curd rice and rasamalai.