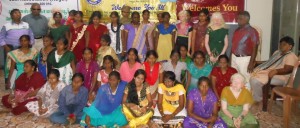 About 25 visually impaired girls put up an amazing performance at an event organised on Mar 21 at the Lotus Blind Welfare Trust of India for Women's Day. The students who had been preparing for almost a week danced to kolattam and western numbers, rendered poems and also talked about the need to respect and honour women.
Retired High Court Judge – Prabha Sridevan was the chief guest. Executive director of Shriram City Union Finance – Subhasri Sriram, Advocate Kalyan Jhabakh and Palanpur Jain Association's Shailesh Mehta were the guests of honour.
The trust currently provides shelter, food, education and medical aid to about 40 visually impaired girls. The trust, which also provides free coaching for competitive exams, is looking for readers (Tamil and English) to help the students during exam time – in April and May. At 8, Thiruveedi Amman Koil Street, Mylapore. Those interested can call 9444855195, 24995556 for details.