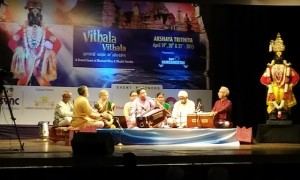 Much is made of buying gold for Akshaya Tritiya. Akshaya Tritiya is also the day when people invoke the blessings of god by involving themselves in bhajans and participating in Namasankeerthanam.
Narada Gana Sabha, Alwarpet arranged a special programme of Abhangs and Bhajans by Ganesh Kumar on April 21 as part of the 'Vittala Vittala' event.
Among the well known persons who attended was Bharadwaj, the cine music director. He expressed his wish to tune one Abhang for one of his forthcoming films.
The artistes on stage performed many Abhangs which included Kabirdas compositions. The artistes invited the audience to take photos of themselves with the Vittala idol made of Papiermache kept on the dais.
– Report and photo by V. Vasantha