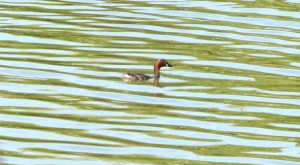 Adyar Poonga (Tholkaapiya Poonga) is buzzing with activity with different kinds of butterflies, birds and insects making the park their home this summer.
The park which covers an area of more than 300 acres has about 90 documented species of birds. Several small birds like the purple sunbird and Loten's sunbird which breed during the summer can be spotted at the poonga. A small colony of Darter (also known as Snakebird) were also seen nesting there a few weeks ago.
It is impossible to miss birds like the grey heron, dabchick (seen in the picture), spot bill duck and painted stork seen near the water bodies. Flower peckers and fly catchers too are a common sight at the Poonga.
Check out the guided tour which is currently being offered to the public   on Tuesdays and Thursdays from 2.30 p.m. – 4.30 p.m. Entry is allowed for twenty people only and tickets can either be booked online or at the ticketing centre at Adyar Eco Park. Students and teachers can visit the park from 9.30 a.m. to 12.30 p.m., Mon – Fri. For details visit www.chennairivers.gov.in.