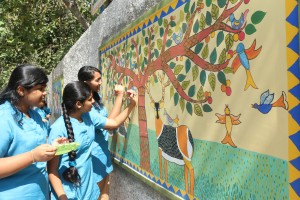 The students and teachers of Chettinad Hari Shree Vidyalayam have undertaken a monumental task. They want to keep the streets surrounding their school clean. This is challenging because those streets are heavily populated and there are dustbins on atleast 2 corners near the school.
But, the students were not daunted by this. A few weeks ago, the pupils of class V along with their teachers and parents conducted a Swacch Bharat – clean India campaign here. They cleaned the streets, distributed pamphlets and spoke to the residents about ways of keeping these streets clean.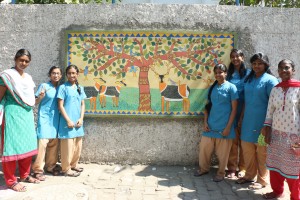 Now, they are working on something else that, they hope, will prevent people from misusing the school walls. On the walls of the school on Srinivasa Avenue, 12 panels are laid out. And the teachers and students are involved in painting beautiful pictures on these panels.
We spoke to art teacher Alamu. She says that 'The walls have been plastered with gravel now to prevent people from sticking bills on them.  In addition, our principal gave us the idea for this project and asked us art teachers to design murals. We got the inspiration to do this after seeing the walls of Stella Maris College. The students of classes IX and X who have taken art as their elective are part of the team that has been painting. Other interested students and parents can also pitch in.'
A section of the wall is smoothened to make it the canvas. On this, scenes are painted using exterior emulsion paints. The pictures based on a theme – Nature and are drawn in different folk art styles of India – Madhubhani, Gond, Pichwari, Kalamkari etc.

Before the students break for summer vacation, the walls of the school are decked out in beautiful colors. What a wonderful way to encourage students to take pride in their surroundings!
The school is located on Srinivasa Avenue and can be contacted at 24615264.