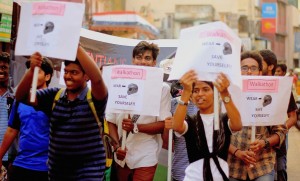 A team of 10 students from B. S. Abdur Rahman University, Vandalur, conducted various events in Mylapore as part of a management and entrepreneurship competition ( Dhoni 2015) organised by Anna University.
On Apr 3, a walkathon was held from Luz signal to San Thome Church. About 35 students carried banners and posters on road safety and distributed pamphlets. Slogans like "What do you call a motorist without helmet? An organ donor" got the attention of the public who immediately responded by wearing their helmet.
On Apr 4, a fund raiser event was organised at Citi Center mall, Mylapore. About 20 students from the university participated in a flash mob dance followed by a think and laugh show highlighting the importance of wearing a helmet. The proceeds were donated to an orphanage in the city.