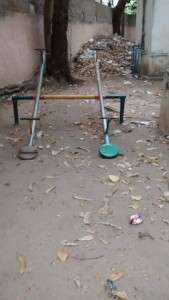 The Chenai Corporation park or Tharumambal Park on Kamaraj Salai in Raja Annamalaipuram is in a  shambles. This is a key public space and is mostly used by children but all the play equipment here has been vandalised and the place is dirty.
The park is leafy and green to look on from the outside. There are trees and plants that give us a warm welcome. If we go further inside, the scenario changes.
The play area is in a horrible condition. The swings are not there and the few still here are broken. The see-saws and slides are rusted badly and need to be replaced. They pose dangers
The fallen leaves and garbage are dumped along the sides of the playground. People come to sleep or rest here on a hot day.
Local resident Sureka mailed to Mylapore Times recently, saying that children's play equipment is damaged and not maintained properly. She said often visitors see drunkards lying there all the time . "This is a green park and very useful for local residents. It needs maintenance and security,"says this resident.
It appears that the equipment has been vandalised by people of this area – these culprits seem to have a free run of the park.
– Report and photo by Ananth Ram/Student Trainee