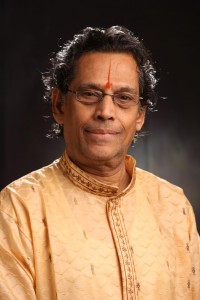 Senior classical dance guru and Alwarpet resident M. V.Narasimhachari passed away on August 19. The sudden death shocked the community of dancers and dance rasikas because the guru had been very active till recently.
He and his wife M. Vasanthalakshmi, also a senior dancer and guru, were well-known and often attended dance recitals and functions in the neighborhood. He was also a key member and headed ABHAI, a body for Bharatanatyam dancers for many years and actively directed its projects.
This dance duo made a name in Kuchipudi dance and have been at the forefront of their chosen field for many years.
Narasimhachari was born in Chennai in 1942 and  was initially trained by his father Satyanarayanachari, a performer and teacher of Kuchipudi dance, and later by other gurus including Pasumarti Venugopala Krishna Sarma and Mahankali Satyanarayana.
He also trained in Bharatanatyam under the greats, N. S. Jayalakshmi and Rukmini Devi Arundale at Kalakshetra, where he participated in some major dance-dramas of the institution.
Further, he learnt mridangam playing under Shanmukhananda Pillai and Karaikudi Krishnamurthy, and vocal music from M. D. Ramanathan and S. R. Janakiraman.
As a guru he trained Vasanthalakshmi who went on to be his life partner.
Narasimhachari and Vasanthalakshmi married in 1969, and went on to establish their institution, the Kalasamarpana Foundation in this area, soon after.
The couple have performed widely in the country and outside, and have received much appreciation for their dance-dramas including Tirukkoneswaram, Meghasandesa, Siva Leela and Kalidasa.
They received various awards including the Kalaimamani conferred by the Tamil Nadu Eyal Isai Nataka Manram (2003) and the Nritya Choodamani conferred by Sri Krishna Gana Sabha (2004). The biggest accolade was the Sangeet Natak Akademi Award for their contribution to Kuchipudi dance.
His dancer colleagues recall that Narasimhachari was a simple, extremely friendly and loving person who did not act like a senior, famous guru. He was keen to promote male dancers and attended recitals at sabha halls if he had the time, thus encouraging the artistes. His colleagues say that he networked with all arts bodies and dance schools freely.
Their two daughters, Lavanya and Lasya run their own arts body. The family's contact phone number is 9840352792, 9840372917. Address : 30, Murrays Gate Road, Alwarpet.