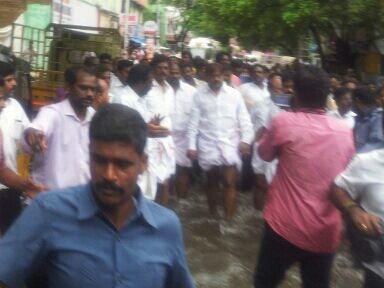 The situation has not improved at Srinivasa Avenue, R. A. Puram where residents continue to struggle with flooding and power cuts. The release of water from the Chembarambakkam reservoir has added to their woes.
Kathir, a staff member of Mylapore Times and a resident of that area says, "It has been three days now. We are really struggling with the stagnation here. The stench of sewage is unbearable. Most of the residents on the ground floor have moved into hotels in the Mylapore area. We have contacted the electricity board but they say that they cannot do anything till the water is cleared".
"People here are really worried about their pets. I had to move my fish tank to my
relative's house in Mylapore. My neighbours are not able to walk their dogs". adds Kathir
All the residents have been been helping each other by providing food and shelter to their neighbours.
Actor and  DMDK leader Vijayakanth visited the area today morning and distributed food tokens
to those affected.