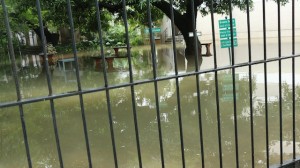 This is probably the worst start to the December Season of music and dance -a  time when over three dozen sabhas host over 1000 concerts across the city.
Adverts in the dailies indicate that many sabhas which were scheduled to host the launch of their tests have postponed programs and are not committing immediate ones too, since the rain has been steady even on the weekend.
Kartik Fine Arts had a few concerts but cancelled Sunday's programs because many artistes, especially dancers of a group cannot make it.
Kartik's managers say they will keep to the schedule and hold concerts on the days the venues are okay to use. They hope that when their fest moved to the Bharatiya Vidya Bhavan venue, Mylapore which remains unaffected, the fest will run smoothly.
Narada Gana Sabha campus is not flooded and  access is okay. But NGS cancelled its pre-Fest concerts. Its main fest may be on schedule if the rains remain just steady and not heavy.
Brahma Gana Sabha hopes to restart its concerts today/Monday if the venue – Sivagami Petacchi Auditorium inside M Ct M School in Alwarpet is usable. The managers said water had seeped into the hall and was now drying up but the electrical lines must be checked.
Photo featured here is of the school campus – taken on Dec.4.
Hosts using halls at P. S. School on R K Mutt Road may not face problems since the access road is not flooded. The campus though could be but this has not been confirmed by us.
Bharatiya Vidya Bhavan is the only venue that is alive with its own festival concerts all through – since the venue has not been affected by the deluge. The access roads are also okay.
In fact, some Mylapore rasikas are calling the venues to check because they say they are now bored sitting at home and want to come out and listen to music!