Here is how two playschools in the Mylapore area celebrated Christmas this past week

At Mahima Cultural Centre, Mylapore, children celebrated Christmas with songs, sweets and games. The children came dressed in red to match their Christmas caps.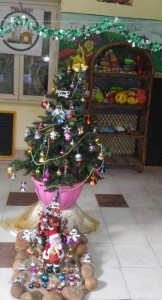 At Nest Play School, C. I. T. Colony, Mylapore, the Christmas tree was decorated with stars and gifts. Children came dressed in costumes and participated in a magic show. Cakes and other goodies were served to all the children. Later gifts were distributed to all of them.