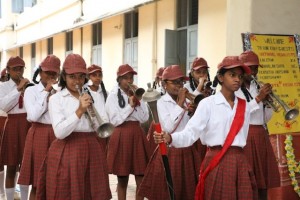 For all those who woke up early and headed to the Marina beach road side to witness the Republic Day parade, it was a worthwhile morning and one that was well spent too. Over 90 minutes, the parade – of armed forces, police, commandos, scouts and guides, NCC cadets, school and college teams and state department tableaux – was a colorful one.
The parade was a treat for scores of children who were here with their parents and families. Much before the parade began, people crowded around hawkers to buy collar flags, mini-flags and badges to either pin onto their Tees and shirts or wave out to the teams in the parade.
Seen in the parade were the teams from Childrens Garden School in Mylapore and Queen Mary's College.
The parade started from the Light House and ended on the north side of the Marina beach road.
Republic Day parades and events were held in many Mylapore campuses and colonies.