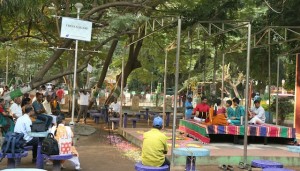 The 2016 edition of the Sundaram Finance Mylapore Festival got off to a quiet, musical start on Thursday morning with a Carnatic music concert at Nageswara Rao Park, Luz.
The vocalists, the Pathangi Brothers who learn music under vidwan Ravi Kiran, the chitra vina maestro in Chennai presented the first concert of the Fest.
Sundaram Finance MD, T T Srinivasaraghavan was present and he gave away certificates to the artistes – four of them.
Some 50 people sat around to listen even as hundreds of people went about their morning walks and exercises in this popular park.
Concerts are held every morn till Jan 10, 7 am onwards for an hour.