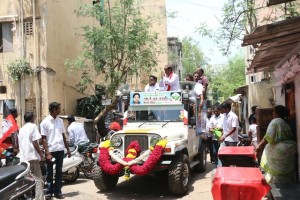 The caravan was small and the band of party cadres also a small group. And the 'baja' was hardly heard. The newly elected MLA for Mylapore, R Natraj covered much of the constituency this weekend, going around in an open jeep to thank people for supporting him and voting for him and his party, the AIADMK.
The caravan particularly wound its way into the inner, densely populated colonies of Teynampet, Mylapore and Abhiramapuram, making sure the residents here knew the MLA had come around.
Natraj's team says that he will soon open his local area office in Alwarpet, on C P Ramaswamy Road, making use of the space that the previous MLA, Rajalakshmi had used. This space is in the Corporation campus alongside the Corporation's Community Hall in Alwarpet.