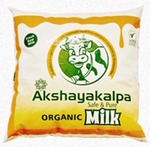 Akshayakalpa brand of organic milk is available at Organic Paradise. This milk can be delivered to your home daily, when you sign up at the store.
This store used to be located on V. M. Street, Mylapore and has now shifted premises to 1st Street Abhiramapuram (Off. Dr. Ranga Road). The store has organic brand grocery items, home cleaning essentials, personal care products, snacks and more. Vegetables and fruits will also be available twice a week, on Tuesday and Saturday.
You can also log on to their website www.organicparadise.co.in and place your order there for home delivery.
For details, call 24980219, 9094425206, 9094425207.