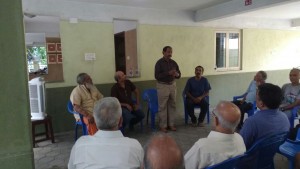 Retd. IPS Officer R. Natraj – the AIADMK candidate contesting from Mylapore constituency, met with the residents of Thiruveedhi Amman Koil Street, Jeth Nagar and R. K. Nagar at Mandaveli yesterday evening (May 8) and lent an ear to their issues and problems.
Issues such as garbage and public nuisance were raised by Srinivasan and Ramkumar – residents of Thiruveedhi Amman Koil Street, Mandaveli. Natraj said that the challenge was in implementation of the corrective measures and assured the residents that, if elected, he would ensure that the issues are resolved with transparency. He also stated that he would be accessible and would ensure that their grievances are resolved in a timely manner.
Ravi. N, a resident of Jeth Nagar, who is trying to replicate what TAKSRA (Thiruveedi Amman Koil Street Residents' Association) did at their street, talked about the parking issues in his area and was assured of a permanent solution to these problems.
Natraj, if elected, talked about his plans to create an app based, technology driven interface wherein people can interact with him freely and voice their issues and concerns.