Here is a fun way to keep kids occupied during the days of summer.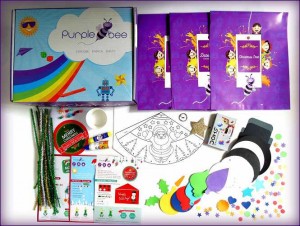 Try the art kits that are available at www.purplebee.in. The kits come in a big box – different themes are available and a group of three activities for each theme make up a box. All the items that are necessary to make the craft will be in the box.
For example, Christmas Fun teaches kids to make three crafts – a Christmas tree, a snowman card and a Santa mobile. The beads, pipe cleaners, colours and all else needed to make these crafts will be in the box when it is shipped out. It is a fun way for kids to spend time away from the TV during the long days of summer.
Aarthi Sethuraman, a resident of Alwarpet,  runs the website. 'When my first son was born, I used to spend a lot of time doing crafts with him. We both used to enjoy these activities. As he grew up, and my second son came along, I found out that I didn't have time to sit and do crafts with my children. I missed those hours of play time and I would wish that there was something readily available to do crafts – without having to run around looking for ideas', says Aarthi. Though the idea was in the back of her mind, it was a while before it became a business.
Aarthi works with freelance designers to come up with ideas and designs for her kits. As of now, kits are available in four themes – Christmas Fun, Sound of Music, Colours and Summer Fun. Each kit will have 3 activities, the instructions for creating them and all the material required. Using these kits, children can play by themselves and keep themselves occupied for a while.
Purplebee ships to anywhere in India. Aarthi is also working on bulk ordering – to use kits as return gifts at parties and so on. For details, log on to www.purplebee.in or call 9840745016.