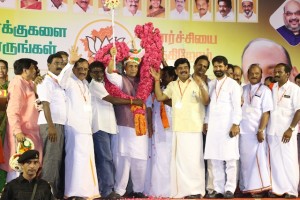 "Tamil Nadu has had two Dravidian parties in power the past fifty years. Both say they are the only alternatives. Now, the BJP is the third alternative," said union minister Rajnath Singh at a public election meeting held Thursday evening ( May 12) at the famed Mangollai space at the far end of North Mada Street.
Some 1000 people cheered lightly then; but did so lustily when he was earlier donned with a massive rose garland.
"Mylaporeans are intelligent people and we hope they will vote for the thamarai, "said a woman speaker, as many party speakers filled in after a theatre group in mythological costumes and sweating profusely, ended its long act on stage that started at 6.30 p.m.
The whole area was well lit and festooned with party flags; police and security men and women swarmed the place; after all the union Home minister was here and each visitor was frisked.
Since access to Mangollai was closed by 5 p.m. traffic jammed on Devadi Street, Bazaar Road and Chitrakulam area. As word got around of the meeting many Mylaporean, mada veedhi regulars stayed indoors so even the Kapali Temple area was rather thin with people.
Mangollai has not witnessed many election meetings this season. The BJP showcased its Mylapore candidate and the rest in the city but the meeting did not have the zip and attention that some in the past have had.