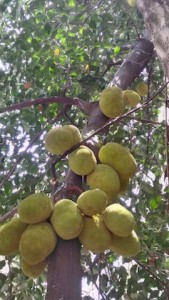 The  jackfruit tree in my backyard in Sriram Nagar, Alwarpet has borne fruit this summer.
My father Naresh and mother Aruna said that this tree has been there for years and gives only three or four huge fruits every season.
This is the one and only tree in my house which gives fruits every summer and ever since it started growing, this is the first time it has produced 21 fruits.
The tree is inside our residence campus at No.33, North Street, Sriram Nagar, Alwarpet.
Report and photo by Kapil Naresh