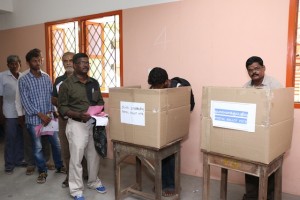 All neighbourhood polling booths were scenes of hectic activity since this morning as the final touches were being given to the infrastructure here.
Fans, tables and chairs were being set up – extra care is being taken after the EC said the polling staff must have all basic amenities here.
Vans which will transport the EVMs from the booths to the counting centre are now parked in a few spaces like a school in R A Puram.
Voters using the postal ballot facility have begun to cast their ballots today.