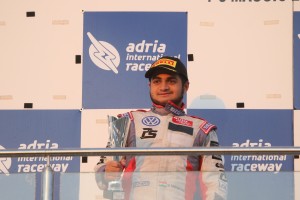 Mahaveer Raghunathan is 17 years old. He was born and brought up in Mylapore, his family lives in East Abhiramapuram. He recently won second place in the Adria International raceway Auto GP formula open in Italy and is the second Indian to achieve this feat.
His mother, Uttara, is very proud. ' Mahaveer was always interested in cars, right from when he was a toddler. About four years ago, he happened to visit the track near Island Grounds. He enjoyed carting there and would go frequently to drive. When he realised that he was really good at it, he started taking part in races – locally first and grew step by step to reach the international level' she says.
There is no formal training for racing, no coaching. Uttara explains about the process. 'Drivers need to be physically very strong, so Mahaveer works out everyday to keep himself fit. Other than that, there is no coaching. You just drive more, test more, get attached to a team. Once he goes to the venue, he will test the racing car. He needs to adapt his driving skills to the car and he would practise on his car. He may train with a team there'. 
Mahaveer is a student of Class XII. He is a private student affiliated to the IGSCE board and will sit for his exams at the end of this month.
'He was a very soft spoken child, very timid. Not even our neighbours know that he is a top-notch racer and that he has won such awards. But being a sports person has really helped him become self confident, mature. He is able to take care of himself wherever he goes and it is a big responsibility since he is involved in such a risky sport', Uttara adds.
'Our family knew nothing about this sport, infact noone at home is a sportsperson. It was a little tough for us to support him initially. But we realised that he is good at it and it is his choice, so now, we are a 100% percent behind him', she says.
Mahaveer Raghunathan is a resident of Third Cross Street, East Abhiramapuram. Contact his mother, Uttara at 9841285917