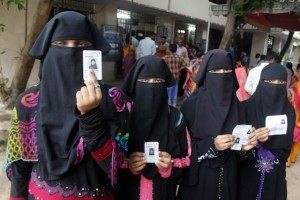 As polling closed this evening in the booths in the Mylapore area as it did across the state, it signaled the end of a very peaceful polling day. There were few people at the booths after 5 p.m. and this allowed staff to prepare for the closure.
The EVMs will now be transported to Queen Marys College on the Marina where the ballots will be secured till counting day on May 19.
The queues at all Mylapore booths were small; because voting was quick at most places be it in Alwarpet, Abhiramapuram, R A Puram and San Thome. The process was easy and many voters who headed to booths by noon said they got the job done in 5 minutes.
The steady rain did mess up the lives of the candidates' agents located away from the booths – they ran for cover.
At some booths, the crowd was big – like those at St Anthony's Girls School and the Fatima Primary School. Voters who reside on the seaside and in dense colonies are registered here and so there was a steady stream of voters past noon.
Post-noon many booths saw thin queues and the staff relaxed.
Photo featured here was shot at a booth on St Mary's Road.
More photos on the Facebook page of Mylapore Times. https://www.facebook.com/mylaporetimes/