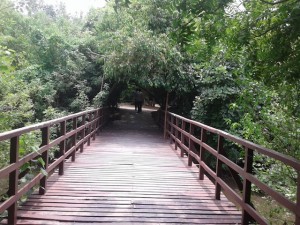 An awareness programme on the conservation and protection of water bodies was conducted on June 6 by the Chennai Rivers Restoration Trust in view of World Environment Day-2016. The event took place at Adayar Poonga ( Adyar Eco Park) on DGS Dinakaran Salai, R A Puram
K. Phanindra Reddy. IAS., Secretary in the Municipal Administration Dept, Tamil Nadu, and part of Chennai Rivers Restoration Trust was present at the event. School students as well as people from the neighborhood participated. 
Officials here said that their surveys showed that there is an increase in the number of animals, birds and insects in the marshlands here.
Public are permitted to visit the park on Tuesdays and Thursdays between 2:30pm and 4:30pm. Bookings should be made online and prior permission is necessary to gain admission; only a limited number of people are allowed entry.
Work on the second please of this project is on on the eastern side ( Foreshore Estate zone).
Ph:044-2461 4523   www.chennairivers.gov.in