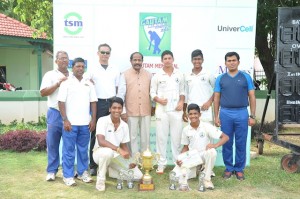 In a thrilling last-ball finish the team of cricketers of St. Bede's AIHSS won the N Gautam Memorial Tournament, beating San Thome HSS by one run in the final held on June 26, 2016.
Held in memory of long-time Mylapore resident N. Gautam since 2003 the tourney aims at unearthing really talented all-round cricketers since Gautam himself was an excellent all-round cricketer.
A stylish and reliable batsman, nippy seam bowler and terrific fielder, Gautam scored a century on debut for Tamilnadu in the Ranji Trophy, and was part of Tamilnadu's Ranji Trophy winning team in 1987.
He tragically succumbed to cancer in 2002.
This double wicket tournament was inaugurated on June 25 by M Venkataramana, former India off-spinner and V V Sankapani. It was held on the greens of the Marina cricket ground.
Dr. R Nataraj, the Mylapore MLA and Diwakar Vasu, Director of Cricket Operations of the TNCA gave away the prizes to the winning team on June 26.
Semi-finalists: Sri Sankara SSS & St. Patricks AIHSS teams.
Awards: Best Batsman: Md. Adnan Khan (St. Bede's), Best Bowler: Ajay Chetan (San Thome), Best Fielder: Samuvel Raj (St. Patrick's) Promising Cricketers: S Sundar (Sri Sankara), V Bhuvaneshwar (San Thome)
Scores: San Thome HSS 39 for 2 in 6 overs (Ranjith Kumar 18, Ajay Chetan 17) lost to St. Bede's 30 for no loss in 6 overs (Shyam Sundar 17, Md. Adnan Khan 12).
Photo shows the winning team with chief guests R Nataraj, MLA and Diwakar Vasu, Director of TNCA Cricket Operations and team coaches.
St. Bede's head coach Rao can be contacted at 9444168836.
This tourney is presented by the Vidya Mandir Alumni Association ( Gautam was a VM alumni) with support from a host of sponsors.
Report by Karthik Ramamurthy