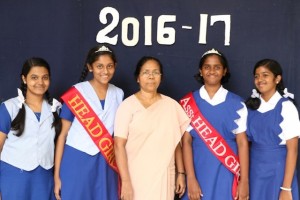 Mawahirul Fawazima of Std.XI was elected Student Pupil Leader and Thulasi Priyadharshini ( Std.IX) her Assistant in the elections held on campus of this girls school in San Thome this past week.
The two leaders were formally inducted on Thursday at a function held in the open air stage area.
School principal Sr. Mary Zacharia decorated the girls with sashes and crowned them, keeping the tradition that is followed at this schol.
Earlier, senior school students were asked to choose from a list of names and the winners were made public after counting.
The two student leaders of the past academic year Mary Mercillin and Aarthi joined the current winners on stage and felicitated them.
<< WATCH VIDEO on this event at Mylapore Scope section at www.youtube.com/mylaporetv – to be posted on Friday.