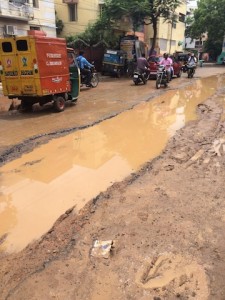 The late evening of June 6 witnessed strong showers of rain accompanied by thunder and lightning in the city. Bur when Mylaporeans woke up on Tuesday morning they saw many roads filled with rainwater.
Most parts of Alarmelumangapuram and Dr.Ranga Road were badly affected. Water stagnated in large pools.
On Justice Sunadaram Road ( photo), the haphazard placement of water pipes which are to be used in a Metrowater project caused large amounts of water stagnation, muddy and dirty which collected in the parts that have been dug up and closed loosely.
In Alwarpet, the areas which do not have storm water drains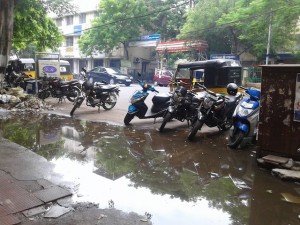 water stagnated on the sides of the road; as was the case on C. P. Ramaswamy Road.
The second photo shows the scene in front of Chennai Corporation Complex, Alwarpet.