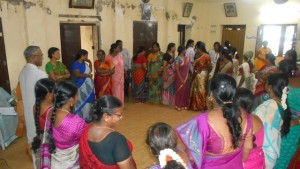 Gandhi Peace Foundation, which has its base in Alwarpet has evolved pedagogy on Peace Education based on Gandhian Values for school children. This is being implemented in schools run by the Chennai Corporation with the help of teachers and college students, says its secretary, S. Kulandaisamy
A one-day orientation for this project was held on June 22 at Srinivasa Gandhi Nilayam, 332, Ambujammal Street, Alwarpet) for 30 teachers from thirty Chennai High & Higher Secondary Schools.
30 college student volunteers of Stella Maris College, Chennai took up the responsibility to reach out to these schools to conduct sessions on Peace Education this academic year.
This project is linked to a National Level Open-Book Exam Competition, a SELF-STUDY DIPLOMA COURSE based on 15 books with a content of children stories, teacher-student activity, and anecdotes from the lives of Mahatma Gandhi, Vinoba Bhave and India's freedom fighters.
SWA- a Special Reader, the compilation of the best contributions from the last year's Diploma Course was released on this occasion.
\Padma Venkataraman, patron, Gandhi Peace Foundation, Madras presided. Dr. Latha Pillai, Director, Rajiv Gandhi National Institute of Youth Development, Sriperumbudur, Tamil Nadu released the book. Vijay Bharatiya, Director, South Asia Peace Alliance (SAPA) inaugurated the workshop. Dr.Nirmala, NSS Director, Stella Maris College felicitated the student writers.
S. Kulandaisamy, Secretary of the Foundation introduced the book and the aim of the workshop. Dr.Lalitha Ramamurthi, Chairperson of GPF spoke. Dr. C. Shenbagavalli, Joint Secretary of GPF took part.
A full set of 15 text books ( Gandhian Way to Peace -1 and SWA (SELF WOVEN ART) Part I and II – 14 books) was donated to each of the 30 schools.
Gandhi Foundation welcomes more volunteers from colleges to take this project to school children in their respective areas.
Interested youth may send their resume by email to: kulandhaisamy.gpf@gmail.com.