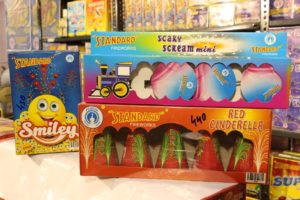 With Diwali around the corner, several vendors are setting up crackers shops, some on main roads and others on street corners.
A shop has been set up outside Kumaran Stores on R. K. Mutt Road, Mylapore. This store sells only Standard brand fireworks. Check out a box of Red Cinderella flower pots for Rs. 440 or Scary Scream, a noisy cracker, for Rs. 123. One piece of Smiley, a special kind of flower pot, is priced at Rs. 450.
For discounted rates, visit TUCS Kamadhenu Cooperative Store at R. A. Puram (opposite Bill Roth Hospitals).