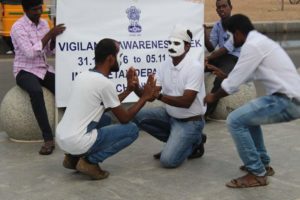 The Income Tax Department recently initiated Vigilance Awareness Week to educate the public about the problems associated with corruption and red tapism.
Thuvakkam, a Chennai based NGO joined hands with the Income Tax Department last week in their initiative by taking the fundamentals directly through the public through  mime titled "Modern Tandora".
A Tandora is an instrument traditionally used to spread news to the public. The mime was conducted on Wednesday, Nov. 2 in the presence of Rathinasamy, additional director general, Central Board of Direct Taxes at Marina Beach.
A team of volunteers enacted a scene showing the life of two families. One family led a normal life following ethics while the other had a wife who forces her husband to take bribes to satisfy her greed. The story takes a turn when a building whose construction was sanctioned by the husband of the greedy wife crumbles down killing all the workers (quoting the Moulivakkam tragedy). He is arrested after the investigation and his family gets into trouble while the other family continues their contended life.
The mime was witnessed by several beach goers and regulars.