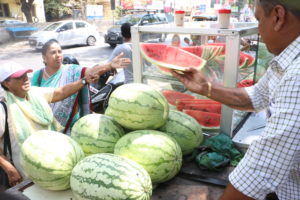 This is the season for watermelons and if you are passing by Venkatakrishna Iyer Road, Mandaveli don't forget to stop by Jeeva's shop (opposite Dhanalakshmi Bank) and dig into a small piece of fresh watermelon, for Rs. 10 only.
G. Jeeva, who has been selling watermelons there for more than 30 years says, "This business was first started by my parents and has been passed onto me now. We get the fruits from Thiruporur".
Choose from small ones which cost only about Rs. 30 to the big ones which are priced at Rs. 150.
From the first week of April, musk melons priced between Rs. 20 and Rs. 70 will be sold too, he adds.
His musk melon juice is a fast seller, he manages to sell atleast 300 glasses a day during the summer. One cup of 320 ml is priced at Rs. 20.
Mangoes are sold too, Banganapalli, Malgova, Rumani, Neelam and other varieties at wholesale rates during the season.