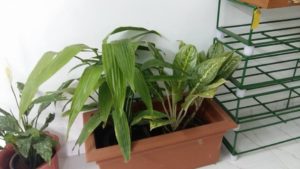 If you are planning to start a garden but the summer heat stops you, stop by Aapti Gardening Solutions. A big collection of indoor plants is in the store now. 'These plants will help in purifying the air and help with breathing inside houses', says owner Sumithra Srikant.
Flowering plants, vegetable saplings like brinjals, capsicum and herb saplings like vallarai, thuthuvalai are also available.
Sumithra also has a few tips for avid gardeners who want to protect their outdoor pants from the heat:
Mulching is very important – dry weeds and sugarcane waste from sugar cane juice vendors can be used as mulch.
Take a water bottle and make pin holes in the cap. Place it in the soil, inverted. Water will be released slowly, the soil will be moist at all times and water consumption can also be measured. Ideal for flats where people won't complain about water usage.
Place smaller plants under bigger plants to protect them from direct heat.
Plants are susceptible to many diseases and infections during summer. Here is a quick pesticide: use sour and fermented buttermilk, dilute it very well and pour it over the plants. Make sure the buttermilk is well diluted.
Ash waste from the ironing box, cow dung and manure are good fertilizers. Wood ash soaked in cow-urine and buried in the pot is an excellent slow release nutrient formula. Jaggery water is also a good source of nutrients.
Plants should be pruned occasionally to remove damaged parts and to help fresh growth. This will reduce transpiration and hence reduce water needed.
Excess watering is also bad – while excess water comes out, the nutrition also comes out. Indicator plants like Ceylon keerai, tulasi can be planted in between others, when these dry, all plants can be watered.
Waste from sweeping the home, human hair, is a good source of potassium and is excellent for curry plants. Bury it in a curry plant pot instead of throwing it away.
What you can grow in Apr / May ?
Chillies, ladies fingers, gourds, water melon, tomatoes. Water melon is a creeper and can also be grown on the terrace.
Aapti Gardening Solutions is located at 83, Krishna Avenue, Abhiramapuram. Ph: 7358320442.