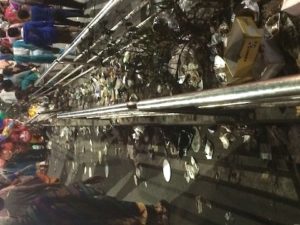 City police came in for praise as people acknowledged their committment to crowd management on the big days of the Panguni festival of Sri Kapali Temple, Mylapore. They were stretched to the end by the huge numbers of people who attended Sunday's arubathumoovar procession.
The barrage of public announcements by the police and volunteers on 'lost and found' people and advice to women to take care of their jewellery and their purses helped control crime.
Volunteers pitched in – giving women pins to pin their gold neck chains to saris and discourage rouges.
But waste piled up on all the mada streets and on the main roads of Luz, Mylapore and Mandaveli where annadhanam stalls were set up. ( photo shows waste dumped on the road divider at Luz Circle)
Though food waste was almost nil on the mada streets, paper plates and cups, plastic water bottles and soiled paper sheets piled up all over the place elsewhere. And there was no sign of civic workers clearing them on Sunday evening; imagine the huge task they must have had to execute before the neighbourhood woke up on  Monday.