IndoSo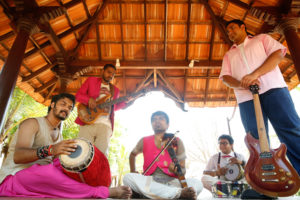 ul band, formed by Karthick Iyer, is a collaboration of musicians from diverse musical backgrounds – Vikram Vivekanand on the guitar, Reshwin Nishith on the bass, Ramkumar Kanakarajan on drums, Sumesh Narayanan on mridangam / percussion and Karthick Iyer on the violin and vocals.
This band will perform live tomorrow May 5, 9 p.m. At Bay 146, Hotel Savera, Dr. R. K. Salai, Mylapore.
DJ Nash will be on the floor with a very special throwback set of fresh sounds and remixes. Club classics in a brand new format. On May 5, 8 p.m. At Radio Room, Somerset Greenways, 94, Sathyadev Avenue, M. R. C. Nagar, R. A. Puram. Ph: 8500005672.