A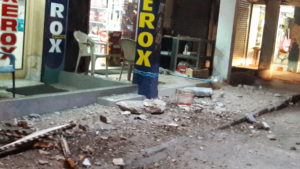 casual errand to the Xerox shop turned out to be an unnerving experience for Matengi S. Suresh.
'I had gone to City Xerox in the Corporation Complex on C. P. Ramasway Road, a few days ago', recalls Matengi. 'I parked my bike in front of the shop, my daughter who sits behind me, got off and was standing by me. My son usually stands in the front, and I was in the process of helping him out.', she says.
They heard a loud splintering noise, followed by a huge thud and then saw the dust rising from a pile of rubble not even a foot in front of their bike.
It was all over in a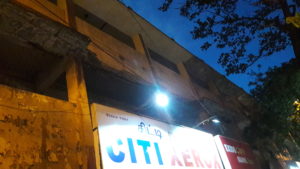 matter of a few seconds. 'That is all it was!  But I got goose bumps when I realized what had happened. One man had just gone into the Xerox shop ahead of us, some people were standing outside the shop and were drinking tea; luckily no one was hurt. I looked around and saw that my daughter had run away to hide behind the big tree; that was smart thinking!', she adds.
Once she entered the shop, the customers and the owners fell into a discussion about the age of the building and repairs needed. 'Someone even said that they hoped Mylapore Times would bring it to the attention of proper authorities, as they are located in the same building', she says.
Matengi is a resident of Alwarpet.