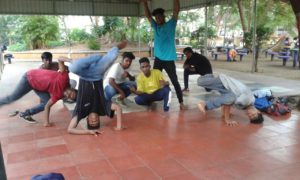 Nageswara Rao Park, Luz is home to several groups. Take a stroll in the evening there and you cannot miss the seniors taking brisk walks, teenagers playing football or children squealing as they swing and slide in the play area.
A group of youngsters standing on their heads in a corner at the park piqued our curiosity. The group, headed by Black Thiyagu, a resident of Visalakshi Thottam at Warren Road, Mylapore were preparing for a hip hop dance battle to be held this weekend.
The team 'All for one' has about 15 members, most of them Mylaporeans. Says Thiagu, "We come to the park often to practice, the ambience here is good. In addition to the competition to be held this weekend, we also hope to compete in the World of Bboying Championship to be held soon". For details contact Thiyagu at 9087678822.