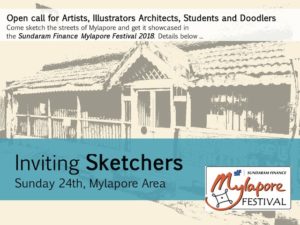 This Sunday ( Sept.24) morning, all those who love sketching are invited to this outdoor activity in Mylapore. The curator of the annual Sundaram Finance Mylapore Festival ( www.mylaporefestival.com) is hosting the second sketching session. The aim is to capture the visuals of Mylapore.
Artists, architecture students, illustrators and doodlers can choose any point in the area around Sri Kapali Temple and sketch.
Views of the street life, of old houses and shops, the temples and their environs are suggested for your sketching.
The completed sketches will be considered for display at a street exhibition during the Mylapore Festival in early January 2018. You may submit them by October 2 at the Mylapore Times office ( 77, C. P. Ramaswamy Rd., Alwarpet, Chennai 18).
On from 9 a.m. Open to all. You may contact a Fest volunteer near Kanchi Weaves on Sannidhi Street ( east side of Sri Kapali Temple – a volunteer will be here for an hour).
This is not a contest or workshop.