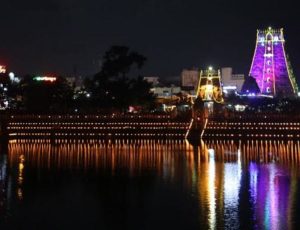 Since Karthigai Deepam which fell on Dec 3 this year, volunteers at Sri Kapali Temple, Mylapore have been busy decorating the temple tank with thousands of lamps every evening.
A volunteer at the temple, Srikanth, says, "We light up the temple tank twice a year. The first is in the month of Vaigasi during laksha deepam and the second is in the month of Karthigai, for three days after Karthigai Deepam".
This year, 20 volunteers are helping us light up the tank with over 10000 earthen lamps. We start pouring the oil into the lamps a little after 5 p.m. and it takes about two hours for us to get the tank lit", he adds.
Drop by after 7 p.m. to watch the display.