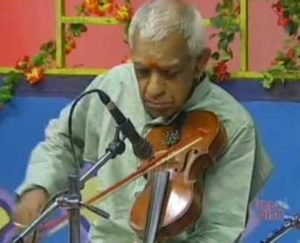 Well-known violinist Parur M. S. Anantharaman, a resident of Mylapore passed away early on Monday morning ( Feb. 19). He lived on Sri Apparswamy Koil Street, Mylapore.
He was in his 90s and was restricted to his home the past few years.
Anantharaman made a name for himself in the world of Carnatic music in his long career that spanned close to seven decades.
His brother was the renowned violin vidwan M. S. Gopalakrishnan who was also a Mylapore resident and passed away in 2013.
Anantharaman performed all over India and went on several concerts tours abroad during his heydays, besides being an accompanist for the stalwarts of Carnatic music.
He was initiated into music by his father, Parur Sundaram Iyer who after his early lessons in Carnatic music had headed to Bombay to learn Hindustani music under Pandit Vishnu Digambar Paluskar. Here, Iyer got the opportunity to teach juniors but also accompany Paluskar at his Hindustani music concerts and tour many parts of India.
That is how Sundaram Iyer wove the Hindustani style of classical music into Carnatic music and the now-widely known Parur bani was born. This style was sustained by Iyer's sons, M S Gopalakrishnan and M S Anantharaman.
As vidwans of Carnatic as well as Hindustani music kept visiting Sundaram Iyer's house in Mylapore where he came to live in the 1920s, his sons got the opportunity to absorb the music and the discussions that took place at this house – enriching their art.
(Parur is a small place near Aluva in Kerala and Sundaram Iyer's forefathers had moved here from the Palakkad region)
Both sons of Anantharaman, M. A. Krishnaswamy and M A Sundaresan are violinists in their own rights and the father-sons trio of violinists came to be a regular feature in the concerts circuit.
His daughter Prof. M. A. Bhageerathy heads the Dept of Music at Queen Mary's College, Chennai.