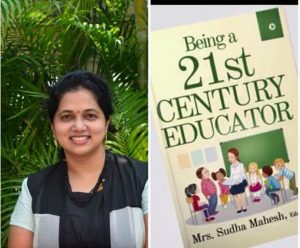 Sudha Mahesh, a resident of MRC Nagar, recently released a book titled 'Being a 21st century educator'.
Sudha, a mother of two children, chose to become an educator in the early thirties. She says, "I joined a local school as a kindergarten teacher in Dec 2007. After working there for 5 years I wanted to work at the primary level and so I completed a masters degree in child care and education. While doing that I also joined an international professional course for teachers and trainers".
By early 2015, she had completed all the courses and had joined a school with an international curriculum to put into practice what she had learnt. She is now the head of an upcoming school in the city.
The book is priced at Rs. 165 and is available at notionpress.com, amazon.in, flipkart and kindle. Contact her at sudhamahesh97@gmail.com.