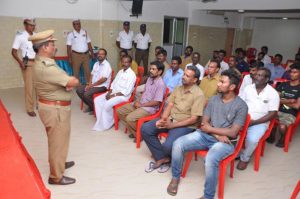 A road safety awareness programme, conducted jointly by the Regional Transport Office, South East, Mandaveli in association with the Traffic wing of Mylapore Police Station, was held on March 10 at Aruna Hall at Kamarajar Salai, R. A. Puram.
Thiruvengadam, inspector of police, Traffic wing, Mylapore Police Station, RTO M. Vijayakumar, senior MV inspector V. Girirajan and S. Venkata Ramani, former road safety technical consultant talked about various aspects of road safety.
The need to wear seat belts and helmets, the effects of driving under the influence of alcohol and the procedures for obtaining driving licenses were discussed.
Over 200 auto, car and van drivers attended this event. A Tamizh book on road safety was distributed to all.