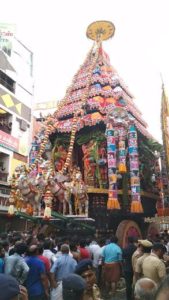 As the ther rolled out early today morning, the Mada streets seemed like a carnival.
Several thousands lined up not only to see the ther make its way down the streets but to listen to the sounds of the beating drums and the shouts of 'Kapali, Kapali', to make offerings and to see the group of women dancing to classical tunes.
For many it was an emotional experience, tears flowed as the ther inched forward. Seniors were seen holding up their grandchildren for a better view.
For many others, it was a day to serve. When the ther stopped, the lads who pulled the heavy ropes and the police officials who regulated the crowd were seen taking quick sips from cups of buttermilk being distributed by volunteers there.
Watch Video : Ther procession