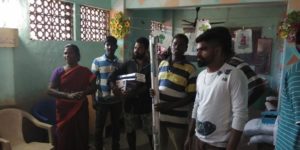 April 14. The fishermen of Nochi Nagar and their families are getting ready to celebrate Dr. Ambedkar's birthday.
They had formed an association recently hoping to help the community there. This is their chance. There is excitement in the air as the youngsters take turns to get the flower garlands and set up the stage.
After paying their respects to the leader, the residents distribute notebooks to the students of the corporation school there, fans and tubelights are handed over to the staff at the anganwadi nearby (seen in the picture).
Later, members of St. Luke's Church, Mandaveli distribute saplings to the residents. A day well spent.