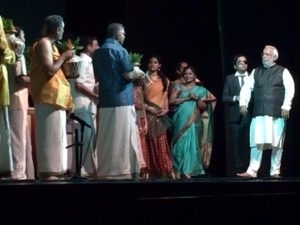 Dummies Drama, the theatre group attempts to present a taut play and have it played out amidst well-made sets.
On Monday evening, at the 29th edition of Kodai Nataka Vizha of Kartik Fine Arts, Dummies Drama premiered 'Kanavu Meipada', weaving much around the story of a small, history-ladden temple whose priest dreams of rebuilding the temple and holding its kumbhabishekam despite the fact that the community around does not have the money to build on the dream.
Dummies' scriptwriter-director V Srivatson wove lessons on temple architecture and respect for the agamas in his script that went on rather cliched lines. But the story rolled and the sets were well designed.
A live nadaswaram troupe took part in the kumbhabishekam and to give it a dash of surprise, prime minister Narendra Modi stopped by at the ceremony – his helicopter grounded on the temple grounds while on way to a function down south.
The drama fest is on till May 3, a new play every evening at 7 pm. Open to all.