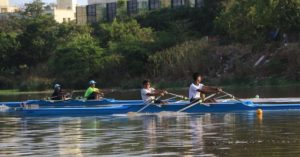 A section of the Adyar river has been witnessing some intense rowing action the past few days.
Student rowers from schools and colleges from four states (Tamil Nadu, Kerala, West Bengal, and Karnataka) have been competing for honours at the MBC Schools & Colleges Regatta 2018.
The Regatta is organised by the Madras Boat Club.
After the competition on the river, still navigable to some extent, the Regatta participants will unwind at the traditional Regatta Night on April 14.