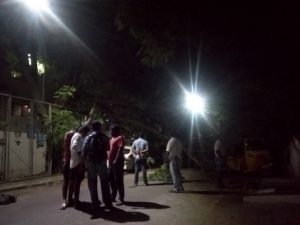 A part of a huge tree fell down last night obstructing the movement of vehicles on Ramarao Road, Mylapore. A few cars and a auto were damaged in that fall.
The big tree which is locally called thoongumoonchi maram was in the precincts on Indian Bank quarters.
Chennai Corporation staff and workers responded to a call and began chopping the tree but it took time.
On Saturday evening, a massive branch of a tree on C. P. Ramaswamy Road near the Metrowater biil counter gate came crashing down; traffic had to be diverted and workers responded to the SOS and began removing the branch.
Perhaps it is time for residents to report on trees / branches that pose a danger locally.
– Report & photo by Baskar Seshadri
Baskar CS