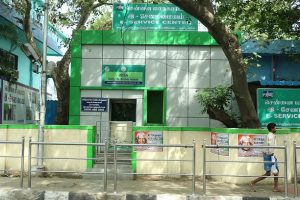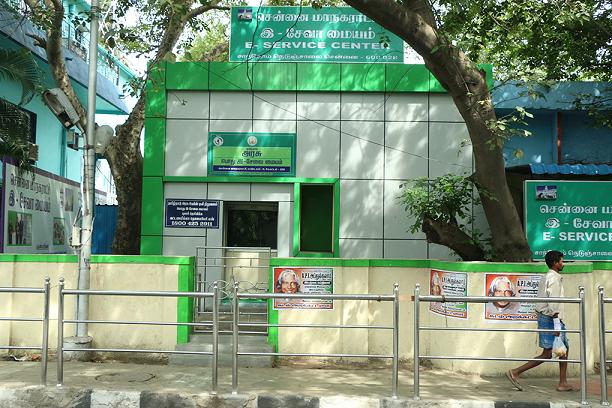 Amma Unavagam. Office of Member of Parliament ( South Chennai). E-Seva Centre. On San Thome High Road. And in a rather quiet stretch of a busy road.
At the E-Seva center at San Thome, a stained green carpet covers most of the floor. There are holes in the false ceiling. Three table fans have been attached to the walls, they are filled with dust and don't serve their purpose.
The place is hot and humid. Which means this is certainly not a welcoming space for citizens who must get some priority work done.
One staff member has been employed here and he sits behind the lone computer there. He says, "We accept property tax, EB and Metrowater payments too. We don't print plastic Aadhaar cards here, residents who want a black and white printout can get one from here".
The place isn't crowded the day we visit it.
We are told that many people who walk in to this centre have tried to access documents at home but very often are not able to do so because of 'server' problems. "This is a complaint I receive very often", says the staff. And this observation fits in with people who have sought help at this centre.
"Also more than half of the enquiries I receive everyday are about Aadhaar cards. Since we don't accept new applications or process corrections here, I direct them to the Tahsildar office on Greenways Road", he adds.
From our interaction, we assume that the staff here is helpful. At least, he gives advice to people. Makes
suggestions.
This centre is open from 10 a.m. to 6 p.m, Mon to Sat. The centre is closed on Sundays and on Government holidays. ( Would Mylaporeans like E-Seva centres to function on Sundays and take a day off on a weekday?)
PLUSES :  Easy access and good location. Helpful staff. Not all that crowded.
MINUSES: Stuffy office. Needs at least spring-cleaning!
WHAT IS ESEVA?
E-seva is a government initiative to bring public services closer to home. Since the system guarantees greater transparency and eliminates middlemen, a resident who wants copies of various certificates and documents can access the same by just dropping into the E-seva centre in his zone. Community, nativity, income and first graduation certificates and payment of property taxes are some of the services that can be availed at these centres.