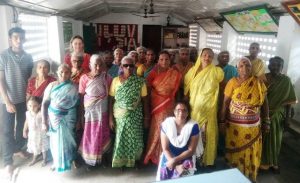 A UK-based researcher has been at work in Srinivasapuram, off Foreshore Estate.
Judith who is from the London School of Hygiene and Tropical Medicine was interning in Chennai with the voluntary body, MCDS which has its main office in Adyar and works in many areas in the city.
This intern, says a post from MCDS was doing research for her PhD on 'Care for Elderly People in India'.
She interacted with senior citizens in Srinivasapuram who are supported by MCDS which has been working in this area for decades now in elder care, less abled kids, kids education, skilling women and so on.