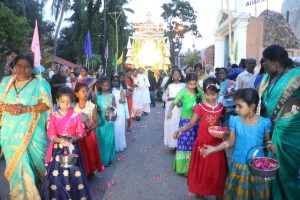 The annual feast of saint Thomas is coming to a close this Sunday evening with the final feast Mass at the San Thome Cathedral and then the lowering of the flag which was hoisted on the flag mast in the church campus, to signal the start of this feast.
The saint who is believed to have lived and preached in these parts is also the patron saint of this diocese ( Madras-Mylapore).
On Saturday evening, a grand car procession in which the statue of the saint was taken out, started at St Lazarus Church and ended in the cathedral.